Fall Promotions
Available October 1st - 31st.
---
Each Fall season we love to offer our guests some great treatment promotions!
It is the perfect time of year to come in, cozy up and treat youself.
Botanical Kinetics Intense Hydrating Facial - $100 (Regular $120)
Keep hydrated for supple skin! Instantly restore your skin's moisture barrier and minimize the appearance of fine, dry lines. Boost your skin's own moisture retention and instantly plump your skin with Cactus Fruit & Hyaluronic Acid.
---
Botanical Kinetics Instant Luminizing Facial - $100 (Regular $120)
Get glowing with visible luminosity! Instantly improve your skin's radiance by dissolving surface cells and gently resurfacing your skin. Reveal a smoother skin texture and even skin tone with Snow Lotus & Alpha Hydroxy Acids.
---
Botanical Kinetics Pore Refining Facial -  $100 (Regular $120)
Smooth the way with minimized pores! Immediately purify and reduce the appearance of pore size and instantly smooth and soften your skin with Sweet Clover & Beta Hydroxy Acid.
---
Beautifying Body Wrap - $85 (Regular $95)
Restore and seal in moisture to your skin with the nourishing blend of organic olive and safflower oils. This hydrating formula combined with the aromas of certified organic rosemary, lavender and lavandin will leave you feeling uplifted and your skin at its softest.
---
Rosemary Mint Awakening Body Wrap - $85 (Regular $95)
Renew your body and mind with this invigorating dry body wrap that smoothes and softens the skin. The essences of rosemary and peppermint will awaken your senses while a scalp and foot massage bring your body back to balance.
---
Stress Fix Body Wrap - $85 (Regular $95)
Deliver radiance and hydration to your skin with the moisturizing properties of sunflower and jojoba seed oils. Proven to reduce the feelings of stess, the aromatic blend of certified organic lavender, lavandin and clary sage will leave you feeling rested and at ease.
---
Online Booking is available.
Promotional Pricing will be applied the day of your appointment.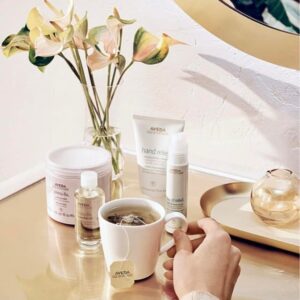 Experience AVEDA in Fernie, BC.
The only day spa in beautiful Fernie, BC, offering exclusive esthetic, spa and massage treatments with Aveda skincare techniques and products. Enjoy high quality care in a comfortable and relaxed atmosphere.