November Promotions
Come warm up at the spa with us & check out this months promotions below:
---
Manicure & Pedicure Combo
Book a Manicure & Pedicure on the same day and enjoy a complimentary paraffin dip for your feet ($15 value).                                                           *This promo is not available for our "Mini" Manis & Pedis.
---
NEW Tulasara Facial: Dry Skin Focus
Bring dry, dehydrated skin instantly back to life with this highly moisturizing facial treatment. Gentle dry-brushing and added exfoliation will allow for immediate absorption of our ultra-hydrating masques and cremes.
60 Min $110 (Regular $125)
---
NEW Tulasara Facial: Sensitive Skin Focus
This ultra-gentle facial treatment will thoroughly cleanse, exfoliate and hydrate your skin all while reducing irritation and redness. Our Professional Cooling Masque will soothe and balance even the most sensitive skin. Highly beneficial for those who find their skin needs an extra-gentle touch.
60 Min $110 (Regular $125)
---
NEW Tulasara Facial: Oily/Acne Prone Focus
Beneficial for oily and/or acne prone skin. Restore a healthy balance to your skin by immediately reducing surface sebum, clogged pores, appearance of pore size and visible redness. After 24 hours, you will also have a noticeable improvement of smoothness to your skin.
We will be focusing on offering a thorough exfoliation of the skin using a gentle, dry brushing technique, as well as different exfoliants containing Salicylic Acid to safely remove dry skin without further irritating any problem areas.

60 Min $110 (Regular $125)
---
Botanical Kinetics Intense Hydrating Facial
Keep hydrated for supple skin! Instantly restore your skin's moisture barrier and minimize the appearance of fine, dry lines. Boost your skin's own moisture retention and instantly plump your skin with Cactus Fruit & Hyaluronic Acid.
60 Min $110 (Regular $120
---
Botanical Kinetics Instant Luminizing Facial
Get glowing with visible luminosity!  Instantly improve your skin's radiance by dissolving surface cells and gently resurfacing your skin. Reveal a smoother skin texture and even skin tone with Snow Lotus & Alpha Hydroxy Acids.
60 Min $110 (Regular $120)
---
Botanical Kinetics Pore Refining Facial
Smooth the way with minimized pores! Immediately purify and reduce the appearance of pore size and instantly smooth and soften your skin with Sweet Clover & Beta Hydroxy Acid.
60 Min $110 (Regular $120)
---
Online Booking is available.
Promotional Pricing will be applied the day of your appointment.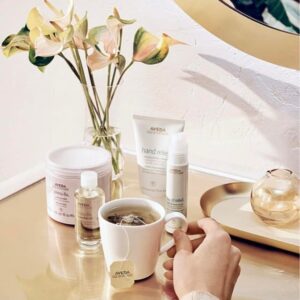 Experience AVEDA in Fernie, BC.
The only day spa in beautiful Fernie, BC, offering exclusive esthetic, spa and massage treatments with Aveda skincare techniques and products. Enjoy high quality care in a comfortable and relaxed atmosphere.