New Year Spa Promo's - Available January 1st to 31st.
Promotional pricing will be applied the day of your appointment(s)
---
---
Book an Eyelash Lift & Tint with Jordan and take $5.00 off!
---
---
Book a Manicure and Pedicure on the same day and enjoy 10% off both treatments.
*Not available on our Mini Mani's & Pedi's or our Tuesday Special.
---
---
NEW! Beautifying Body Wrap $80 (Regular $95)
Restore and seal in moisture to your skin with the nourishing blend of organic olive and safflower oils. This hydrating formula combined with the aromas of certified organic rosemary, lavender and lavandin will leave you feeling uplifted and your skin at its softest.
---
---
NEW! Stress Fix Body Wrap $80 (Regular $95)
Deliver radiance and hydration to your skin with the moisturizing properties of sunflower and jojoba seed oils. Proven to reduce the feelings of stess, the aromatic blend of certified organic lavender, lavandin and clary sage will leave you feeling rested and at ease.
---
---
Rosemary Mint Awakening Body Wrap $80 (Regular $95)
Renew your body and mind with this invigorating treatment. The moisturizing benefits of olive and jojoba seed oils will smooth and soften your skin, while the cooling properties and aroma of rosemary and peppermint will leave you feeling refreshed and revitalized.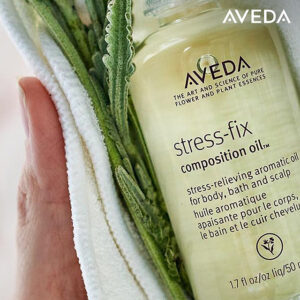 Experience AVEDA in Fernie, BC.
The only day spa in beautiful Fernie, BC, offering exclusive esthetic, spa and massage treatments with Aveda skincare techniques and products. Enjoy high quality care in a comfortable and relaxed atmosphere.