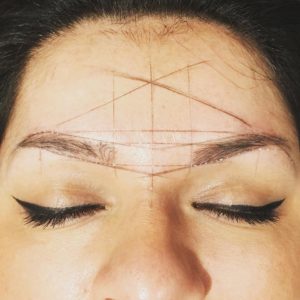 The beauty industry is one that is ever changing and evolving. With this, new treatments and services come and go, some making us wonder if we should dive in and give it a shot, or leave it on the back burner until the fad fades away. Microblading is a raved about topic right now and one that we can't see making an exit anytime soon!
First off, here is a glimpse into Microblading itself: A type of semi-permanent makeup that is best described as a manual process of implanting colour pigment in the upper layers of the skin by means of tiny, sterile needles. This specialized technique will create realistic, hair like strokes with an end result of full, natural looking eyebrows. With being a semi-permanent service, the results of this procedure will typically last between six months to two years. The lasting results vary depending on your skin type and the care that you take of your eyebrows following the procedure. Being semi-permanent, this allows our clients to alter the style, shape and shade of their eyebrows as personal preference and trends change.
One of our most asked questions... does it hurt? While everyone's pain tolerances vary, I would describe the feeling being similar to a consistent, light scratching. We use a powerful topical numbing cream that will keep you as comfortable as possible during the process. I would never word the feeling as unbearable, more so just a bit irritating. That being said, it is well worth it for the end result of beautiful brows!
But will Microblading work for everyone? There are a few indicators that will give you an idea if Microblading is the best fit for you. If you have any of the following skin conditions, this is an indicator that the pigment will likely NOT retain itself in your skin:
Excessively oily skin

Severe acne

Very dry skin

Anemic or iron deficient

Moles or scars in the procedure/brow area

Keratosis (a growth of keratin on the skin)
As a precaution, we will not offer Miroblading to anyone who is nursing or pregnant, diabetic or under chemotherapy treatment. Please call us at the spa and we can answer any & all of your questions about this new service!
Lindsay, our Certified Microblading Technician is here to shed light on her personal experience with Microblading: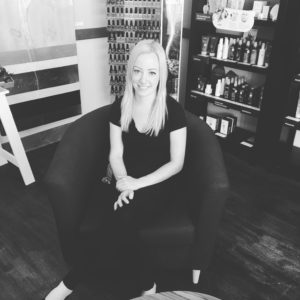 "I am in love with my new brows! Being on the fair side and suffering through the endless mornings of drawing on my "perfect eyebrows" for the day ahead, I can say I am ecstatic to not have to stencil on my brows any longer.
I was an over tweezer in my high school years, which left me with pencil thin, unshapely eyebrows. My mother always told me 'don't over tweeze your eyebrows, they will never grow back, look at mine!'. Well of course at the young age of 13 I did the opposite of what she told me and gave myself the most unnatural look out there! Fifteen years and many eyebrow pencils later, I stumbled upon Microblading and my brow game has changed for ever!
I had my eyebrows Microbladed in December 2015 and let me tell you, BEST. DECISION. EVER. I went into my appointment with my regular brow makeup in place to show my technician what I was personally looking for, for shape and colour. She mapped out the perfect brow for my face shape, applied the numbing agent and away she went! The procedure took about two hours- that included my full consultation, procedure and aftercare instruction. I left her studio with minimal redness and irritation. That is something to be said as I show bruising and skin irritation very easily, I was impressed! That night I was meant to head to my boyfriends' work Christmas party. How the heck was I going to walk into a party, meet all of his coworkers and not have anyone compare me to Eugene Levy? My brows were bold, dark and out there for everyone to see. You know what? Not one person noticed. With having coloured my eyebrows in on the dark side for many years, the boldness of my fresh new brows was easy to handle.
Over the next two weeks of healing, my eyebrows went from overly dark, to drastically light (scabbing will occur) as the skin healed, to the perfect shade of natural brown. The shade of pigment and size of the hair strokes will fade by about 10%.
I went into my appointment knowing that with having a fair skin tone, as well as oily skin, Microblading may not last for me. I went for my 4 week touch up with about half the hair strokes faded to nothing. After my touch up was completed and healed, it made me realize just how important that second appointment is! I am now four months out of having my touch up done and my eyebrows have only faded the very slightest! We need to remember that everyone will heal differently and some may fade faster then others.
All in all, I am a HUGE fan of Microblading and cannot wait to offer this service to my clients! Below are 'before and after' photos of some of my work so far."